Are you planning a country wedding? Make it special with a horse or equestrian theme.
Of course horses are great for the most beautiful photo shoots, but not only that.
Several items used in stables make awesome decoration objects. I am thinking of the horseshoes of course, but what about a flower arrangement on a saddle? Or if you are choosing a country and western theme, you can use the hat and cowboy boots for your entourage or as a couple.
Ropes are beautiful to hang lanterns on …
And of course you can choose beautiful horse themed stationery:
1. Watercolor Equestrian Wedding
A wedding collection featuring a watercolor painting of two horses. I have added rose gold elements and rustic red copper textures to create gloss:

2. Rustic Wood Equestrian Wedding
Wedding collection featuring two lovely horses in a meadow – with rustic wood:

3. Country and Western Equestrian Wedding
If you are choosing for a country and western wedding, this might be just the wedding collection for you, with whimsical romantic horses and rustic weathered wood and cowboy boots with horseshoes: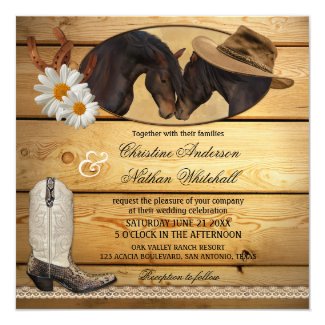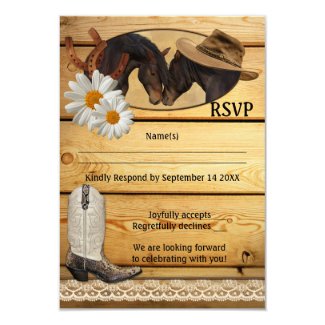 See the entire collection.
4. Floral Equestrian Wedding
A wedding collection featuring a painting of two horses on a coral and brown floral background, with horseshoes and lace:

You can also take a look at all animal themed wedding collections.
Please follow and like us: